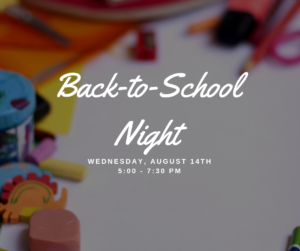 We are preparing and getting excited for the 2019-2020 preschool year! Enrolled students and their parents are invited and encouraged to attend our Back-to-School Night on Wednesday, August 14th between 5:00 pm to 7:30 pm. You are welcome to come anytime, however, if you want to keep lines down at the stations, you may want to consider coming at these times: 5:00 pm-6:15 pm Purple Class (T/TH AM) and 6:15 pm – 7:30 pm Yellow and Red Classes (MWF AM & PM).
What should I bring to Back-to-School Night? Any remaining registration forms still needed, September tuition payment and student's school supplies.
This will be an excellent night to meet our new Teacher's Assistant, Nina Clark! Mrs. Clark is coming to us from Minot, ND with great credentials. She has taught preschool, speech and has given string lessons. She will be a wonderful addition to our teaching staff at Trinity. Come and meet her on Back-to-School Night!